Hey Everyone! I don't have a Tuesday Tutorial for you today on our blog, but I have one over at
Dear Creatives
for you.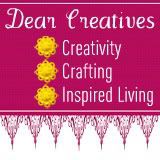 You don't want to miss the
tutorial
, I'll be showing you how to turn an ordinary boxed set of Christmas Cards into something, well, "Semi-Homemade!"
And not only do I have a post there, but I also am sponsoring a giveaway for you to have a chance to win a set of eight Semi-Homemade Christmas Cards from yours truly! Giveaway Ends 12/18 @ 8pm PST.
So be sure and stop over to get the
tutorial
and to enter for your chance to win a set for yourself.
Dear Creatives is also having a
Holiday Hop
where you can vote for your favorite Holiday Craft or Recipe. I've entered my Christmas Cone Advent Tutorial. Please take a second to go vote! Thanks!
And, don't forget about the giveaway going on here from
Platterpuss Platters
. It ends 12/15/11 @ Midnight EST.
I know this is a busy week for most. Be sure and take some time to enjoy the little things and the things most important to you. It's so easy to get caught up in the hustle and bustle of things and forget why we are so busy in the first place. I know I took, and am taking, some time to spend with my kids and husband. Don't let the Holiday Season pass you by without remembering the reason for the season and actually enjoying it with the ones you love!
Have a great day! Hope you enjoy the tutorial!